25. 02. 2016
THE SECOND REPORT ON THE MONITORING OF CO-FINANCING of PROJECTS OF PUBLIC INTEREST IN THE PUBLIC INFORMATION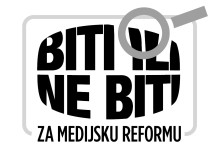 On February 25, 2016, Coalition of media and journalists associations (UNS, NUNS, NDNV, Local Press and ANEM) held in Belgrade the third public debate on the results of its monitoring of the implementation of the rules of co-financing of media content of public interest. At the event the second periodic report (for the period September 15, 2015 - January 15, 2016) was presented. It is a result of the project "To be or not to be for media reform - monitoring of project co-financing of the media", supported by British and Australian embassies in Belgrade, whose aim is to contribute to improvement of legislation and the process of co-financing of media content.
The event speakers were: Svetozar Rakovic, General Secretary of NUNS Petar Jeremic, President of the Managing Board of UNS, Nedim Sejdinović, President of the Managing Board  of NDNV, Milorad Tadić, ANEM's president and Snežana Milošević, General Secretary of Local Press. Presenting the report, representatives of the Coalition talked about how many competitions for co-financing of media projects of public interest were launched in 2015; how much money was spent for these purposess; experiences gained in the implementation of competition procedures so far, examples of good and bad practice in this area and recommendations for the process improvement.
See the report on the event here.
The event program is available
here
.