02. 09. 2016
Coalition: Failure to comply with media laws in Zajecar
Belgrade, Novi Sad, Kragujevac, September 2, 2016 - A coalition of journalists' and media associations, consisting of UNS, NUNS, NDNV, ANEM and Lokal Pres, urge Zajecar authorities to appoint the Commission for co-financing of media projects with full respect of the Law on Public information and Media and in accordance with the Rules on co-financing of projects in the field of public information.
Namely, the Law provides that the Commission for the evaluation of project proposals be comprised of the majority of the members nominated by journalists' and media associations. However, contrary to the said Law, on July 28, the Zajecar City Council formed a commission in having only one member representing the associations.
Upon UNS' remarks, the City Council had previously passed a revised Decision on 4 August, in which one member, who was not a journalist or a media expert at all, had been replaced with journalistic expert Miroljub Radojkovic. However, despite this change, candidates of journalists' and media associations still do not make the majority of the Commission.
Therefore, the Coalition urges the local government to pass a new decision in full conformity with relevant laws and bylaws.
Also, the Coalition points out that it is unacceptable to pass decisions on project co-financing of media content only few months away from the deadline for their implementation, by the end of the year.
slika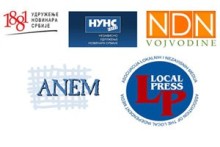 slika
 Journalists' Association of Serbia (UNS)
Independent Journalists' Association of Serbia (NUNS)
Independent Journalists' Association of Vojvodina (NDNV)
Association of Independent Electronic Media (ANEM)
Business Association Lokal Pres