09. 09. 2016
COALITION: BABUSNICA MUNICIPALITY TO WITHDRAW UNLAWFUL DECISION ON THE APPOINTMENT OF THE COMMISSION FOR ASSESSMENT OF MEDIA PROJECTS
Belgrade, Novi Sad, Kragujevac, 9. September 2016 - A coalition of journalists' and media associations, consisting of UNS, NUNS, NDNV, ANEM and Local Press, urge local authorities in Babusnica to withdraw Decision on appointment of the commission for the assessment of media projects and to appoint members to the said Commission in accordance with the Law on Public Information and Media, as well as the Rules of the co-financing of projects serving the public interest in the area of public information.
Contrary to the Law, which provides that the Commission for the selection of project proposals shall be composed of the majority of the members proposed by journalists' and media associations, if such proposal exists, Babusnica municipality has failed to act upon any of the three proposals sent by the Coalition. As this municipality told the Commission, the local government has appointed a commission consisted of members that are not nominated by journalists' and media associations.
In the response, in Babusnica Municipality have pointed out that the proposal of the Coalition of journalists' and media associations "is not valid because it does not have the seal of the Coalition", and that "it has failed to submit an agreement between the members of the Coalition, which confirms the joint nomination of candidates". They also said that they did not want to bother checking whether the proposal had indeed been sent by the Coalition, as "among the candidates there are no journalists from Pirot District".
Coalition of journalists' and media associations will inform the Ministry of Culture and Information about this breach of the Law in Babusnica.
The Coalition reminds the relevant authorities and the public of the fact that it has been monitoring the legality of the competitions for co-financing of media content at both the local and the provincial level, since the very beginning of the implementation of new media laws.
slika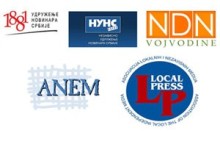 slika
Journalists' Association of Serbia (JAS), Independent Journalists' Association of Serbia (IJAS), Independent Journalists' Association of Vojvodina (IJAV), Association of Independent Electronic Media (ANEM), Business Association Local Press